Honey died today. We've just got home from the vets who will be cremating her for us. I don't know if I'll go back to work this afternoon. Knowing me, probably.

Oliver is looking for her, he was with her when she went but I don't know if he understands.
We alwasy thought he'd go first and she'd follow. Guess she always has to take the lead.

Funnily, noone was supposed to be home today but my dad has been suspended from work. I'm glad, she would have been so frightened alone.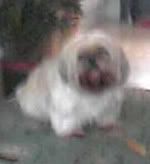 I'll miss you Bunny.