So in posting in
hayleylou's journal, this odd thing happened: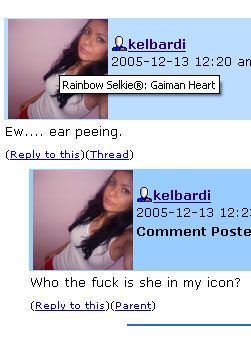 That is not me. That is not my icon. Does anyone know who she is? The icon it was supposed to be was this:




Utterly baffled. Neil Gaiman has been replaced by this odd girl.

::EDIT::
From the status page - Thanks for the link
wintersweet!
If you are seeing an incorrect userpic in place of one you have uploaded, you should first clear your browser's cache. If that does not resolve the problem, and you uploaded the image before 23 November, you will need to delete the userpic and re-upload it. If you added the userpic after that date, please file a report and let us know, including a link to the userpic that is displaying incorrectly.

I uploaded that icon before the 23rd, so i guess I just need to reupload it.
I can't help but wonder who she is though...