Caitlin relaxes in the bathtub. She's been a bit listless lately. I think she might have the flu. (Yes, Sims can get the flu.)



She's definately not very well.



Oh...



Yep, it's a honeymoon baby! Quite a surprise. SimKev is delighted.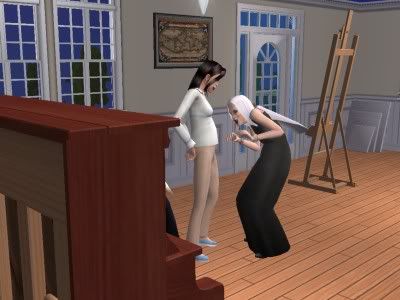 SimKel is pretty happy about it too. Meanwhile SimBardi entertains them all with a little music on the piano. he did come over for a little cooing later but I didn't get a shot of it.



SimKel and Caitlin move the TV room into the gym and replace it with a nice nursery. SimBardi snuck upstairs to the bathroom while they did this.



Seems he snuck off to meet a visitor. I'd swear he waited just long enough to see the beginnings of the next generation.



SimKel, having not had the same mishap with elixir of life SimBardi did oh so long ago, is left behind and quite distraught.



She is going to ensure she still sleeps next to him though.



If she ever goes back to sleep.

R.I.P. SimBardi.